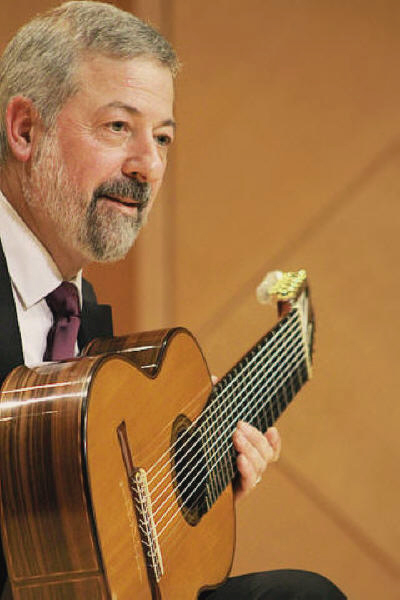 Néstor Benito is known worldwide for his unparalleled combination of outstanding musical mastery and brilliant technique. He has a temperament that allows him to deliver each of his performances with an enormous power to the public" (Paris Match).

He was born in the city of Buenos Aires, Argentina, on April 14th, "Day of the Americas". This coincidence would be a harbinger of his musical life, since, decades later, he would become an ambassador of Argentine and Latin American guitar music.
At the age of six he began his guitar studies with Master José Franchini. With him, he studied, worked and shared a great friendship for 22 years. His permanent interest in learning and deepening his musical knowledge led him to study composition and orchestra conducting with Master Peter Herz.
He began his professional career at the age of 17, performing in the most important concert halls, radio and television programs of Argentina, receiving outstanding support and praise from the press.
Faced with the need for greater sound resources in the guitar, taking Master Narciso Yepes as an example, he commissioned the construction of a ten-string guitar to the prestigious luthier José Yacopi, who then introduced him to Narciso Yepes, with whom Néstor immediately began to study the secrets of this exciting instrument.
He recorded his first album "Obras" as a tribute to masters José Franchini and Eduardo Falú, which was produced by Argentine musician and composer Litto Nebbia for the Melopea label.
For his work in this album, he was sponsored by the Organization of American States to participate in the international cycle "Interpreters and Composers of the Americas", through which he shared radio and television programs with the Berlin Philharmonic Orchestra, New York Philharmonic Orchestra, Mexico Symphony Orchestra, as well as with other international musicians.
"Néstor Benito is one of those musicians who have managed to go beyond the boundaries of music..."
Newspaper El Gráfico – Mexico
Following the suggestions of masters Narciso Yepes and Eduardo Falú, he created the project "La Guitarra en Argentina & Latinoamérica" (The Guitar in Argentina & Latin America) with the purpose of promoting important composers and their unpublished or little known works for guitar. Within the framework of this project, he made the first international recording of Eduardo Falú's "Suite Argentina", in the original version for solo guitar. He also premiered the complete work for guitar by Maestro José Franchini, dedicated to him, as well as works and arrangements by Argentine composers Carlos Padró, Saúl Cosentino, Antonio Luzzi, the Nicaraguan Enrique Téllez, and the Salvadoran Carlos Payés.
For his work as a guitarist and in the diffusion of Latin American music with "La guitarra en Argentina & Latinoamérica", the Republic of Honduras honored him with the Medal of Honor for Merit.
Néstor Benito gives international concert tours, mainly in the United States and Latin America, frequently.