10-String guitarist from Argentina graces GCC
By Noah Jaeger
Professional guitarist, Nestor Benito, came to Glendale Community College for an intimate and passion-filled concert. The world-renown 10 string guitarist provided musical candy for listeners' ears November 16 at 7:30 P.M. The Music Building was filled with sound-hungry fans, waiting for their sweet taste buds to be satisfied.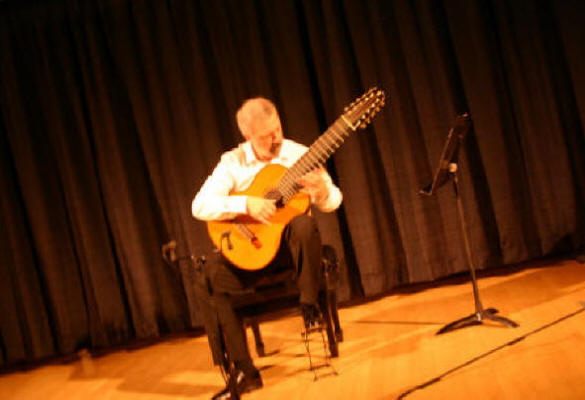 "I was born in Argentina, 1956." Benito says. He was trained on the 10 string guitar by Master Narciso Yepes. Benito eventually became popular enough to travel worldwide. "My first visit was 2004, I was impressed by your hospitality and I wanted to come back," Benito says.
GCC was privileged to witness the professional guitarist at work. "The kind of repertoire a classical style musician would program in general is very demanding, and regardless of the number of strings on your instrument," Chuck Hulihan, faculty of the Performing Arts Department, says. "Playing a wide variety of aesthetically rich and technically challenging music is inherently difficult and not for everyone."
As the double doors open, applause breaks loose. White buttoned shirt, black pants and dress shoes symbolized the guitarist's simple, yet proper attire.

He grabs his guitar, and begins to play.

Applause breaks out between songs, his humbled smile lights the room.

The emotion of the song corresponds with his body language. A pristine, smooth sound lifts his head high, along with his eyebrows; a harsh, upbeat piece results in a facial expression. Often in a song, he will strum to allow the ambiance to float around the room, slowly distance himself from the guitar and then gracefully return his body to the instrument.

Benito exits through the double doors and the audience stands in respect to such an outstanding performance. He then returns and faces the crowd. "One more," Benito says. "This last song is for my master Jose Franchini"

After the performance, the audience rises again and applauds. Many are impressed by the musician's craftsmanship. "I enjoyed it very much. I love classical guitar and I love playing Spanish music on my trumpet," Dave Thibodeaux, professor in the Performance Arts department, says. "I also love tangos and I think he played three or four of them."

Before the master leaves, he manages to leave guitarists some strong advice. "Be very disciplined, do a lot of work and play for the public as much as possible," Benito says.